Coastal Dental Care is a family dental practice located in Skerries, Co. Dublin.  Originally established in 1992 and located on Quay Street, Skerries it later moved in 2006 to a larger wheelchair accessible premises at 2 Shenick Road, Skerries.  And that is where you can still find us today.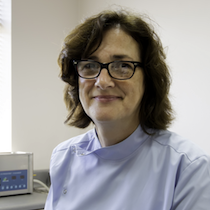 Dr. Alice Keane
Dentist
Qualified B.A.,  B. Dent. Sc. (1986), Trinity College Dublin.
Memberships     Irish Dental Council
                              Irish Dental Association
Alice received her Dental Degree from Trinity College Dublin in 1986.  Having practiced in Dublin for 5 years, Alice established the practice in Skerries in 1992.  Originally located on Quay Street, Skerries, the practice later moved to a larger and wheelchair accessible premises at 2 Shenick Road, Skerries in 2006.
Jeannine Byrne
Hygienist
Jeannine Byrne graduated St Barts and The Royal London in 2000 with dual qualification Diploma in Dental Hygiene and Diploma in Dental Therapy. In 2002 she completed a Further Education Teaching Certificate. She recently completed the Specialist Certificate in Oral Health.  Jeannine has worked in a variety of dental environments, specialist clinics, hospitals, private and NHS practices including domiciliary settings. Jeannine enjoys treating nervous patients and building up their confidence in the dental chair. She believes that education and prevention are key to a healthy mouth.
Aidy Hughes
Receptionist
On our front desk and assisting in the surgery is the very friendly Aidy Hughes.
Aidy joined us in 2012 and has been part of the dental team since.
She has many years of dental experience and has completed her Diploma in Dental Nursing at the Dublin Dental Hospital. She is an active member of the Irish Dental Nurses Association.